Message from the President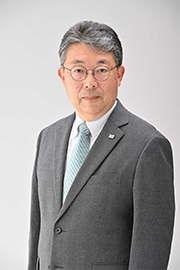 Toshiba Hokuto Electronics Corporation is the northernmost electronic-component manufacturer and sales company in Japan, based in Asahikawa, Hokkaido.
Asahikawa is situated 930 km north of Tokyo and enjoys low humidity throughout the year, rich water from the Daisetsu Mountains and the surrounding magnificent natural bounties. The area is therefore ideal for the production of precision electronic components.
Our products include various microwave magnetrons, thermal print heads and flexible printed circuit boards.
We produce a wide array of thermal print heads for numerous applications, including wide-print width types up to A0 in size and very high-resolution U-shaped types of up to 1200 dpi.
Our flexible printed circuit boards have earned customers' trust for rapid transition fromthe creation of prototypes to mass production. Various platings can also be supplied through cooperation with press manufactures.
We changed the company name in 1993 from Hokuto Electronics Industry Co., Ltd., when we made our mission clear by declaring, "We are part of the electronic component business of Toshiba". We acquired ISO9001 and ISO14001 certifications and have done our best to ensure maximum product quality while conserving the environment. We achieved zero-emission operations in July 2003 and were featured on the Asahikawa City website as one such example. Our company also emphasizes guaranteeing the protection of personal information and making social contributions.
We are determined to continue the development and production of innovative electronic components by making the best of Toshiba technologies. We deeply appreciate your continued generous support and encouragement.
Kentaro Shioiri
President & CEO
June,2021