Thermal Print Head
Guide
Feature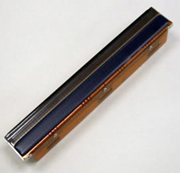 The highest resolution in the field
Thermal Print Head(TPH) of Toshiba Hokuto Electronics Co. is a device with fine patterning and wire bonding by thin-film method, providing compact sizes and high reliable performance.
We meet the diverse needs of our customers by implementing an extensive product lineup of print width varying from 2 inches to 14 inches and also resolution ranging from 200 dpi(dot per inch) to ultra-high resolution of 1,200 dpi.
Your various needs, including mechanical and electrical interfaces, will be supported with our wealth of knowledge and flexibility.
Handling guide